WEISUN Industrial Co., Ltd., established in 1976, initially focused on OEM manufacturing for domestic drying equipment.
After the financial turmoil in 2008, major factories moved westward one after another. For sustainable operation, we decided to transform and create our own brand "WEISUN" emphasizes customized drying solutions for various processes. Overcoming challenges from diverse industries, including semiconductors and panels, we've shifted from 95% OEM to 100% Taiwan-made OBM manufacturer.

We firmly believe
Customer satisfaction is the ultimate affirmation of WEISUN.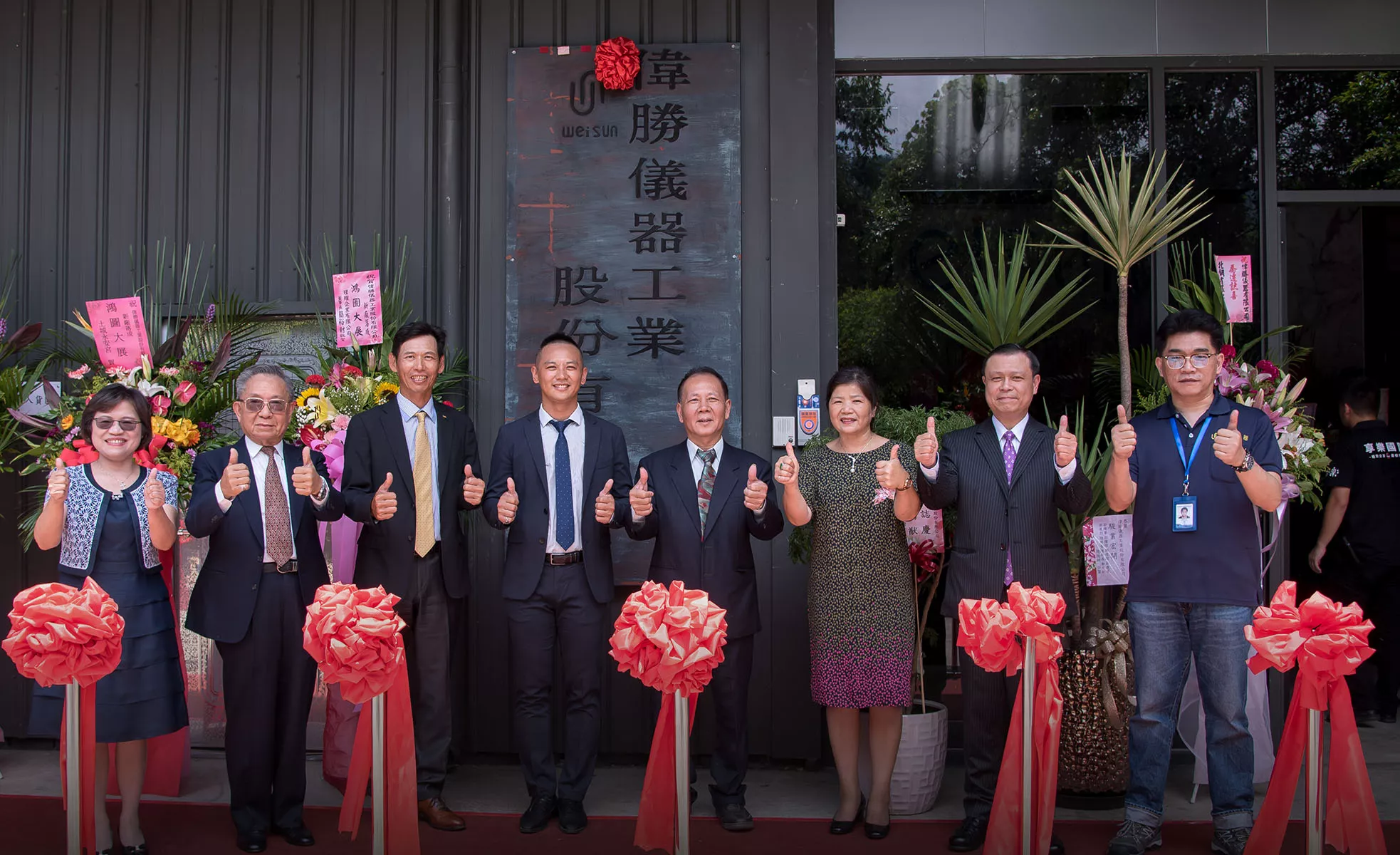 Looking forward to the future
WEISUN Industrial Co., Ltd. keeps the original intention in mind.
Business philosophy:
Good quality / Service first / Customer first
Keep improving the core technology, research and develop lean and innovative, and have obtained a number of patents and certifications
Adhering to the business philosophy of "Excellent Quality, Service First, Customer First," we continuously refine our core technologies and pursue innovation in R&D. We have obtained numerous patents and certifications, supported by a highly efficient and specialized technical team. Our goal is to provide customers with comprehensive and efficient soft and hard resource integration solutions and planning, achieving the vision of a fully automated operation—intelligence, green energy, and sustainability.

In terms of the circular economy, we assist industries in the maintenance and upgrade of existing drying equipment, revitalizing and reusing old machinery. Through the activation of old equipment, we contribute to the circular reutilization, endowing old machines with innovative value, reducing resource wastage, and extending product life cycles. Together, we strive towards achieving a net-zero carbon footprint.

Looking ahead, WEISUN is committed to its original mission. We will continue to deepen our R&D capability, integrate abundant resources, stay attuned to market trends, and approach product development from the perspective of user needs. Our aim is to create high-quality equipment that solve customer pain points, providing top-notch drying technology in both light and heat. We aspire to become a world-class brand leader in drying technology, assisting customers in achieving intelligent, efficient, and high-yield operations in their smart factories!
Core Values
Integrity
Benchmark of doing things, sincerity and trustworthiness, emphasis on commitment
Precision
Precise and accurate, do everything in place and do it accurately
Efficiency
Pay attention to schedule control and do things right
Innovation
The key to the company's sustainable operation and the driving force for continuous improvement
Milestones
1968

Startup

Founder Mr. Chi-Jei Chen
Became an oven apprentice as soon as graduation from an elementary school

1976

In the beginning of building their own business, Mr. Chi-Jei Chen and his brother set up their factory in Zhonghe District, New Taipei City, under the name of "Hesheng Instruments".
Back then, they were mainly the OEM factory for domestic well-known drying equipment manufacturers and were producing equipment that had to do with drying such as the hot-air circulating oven, the UV drying equipment, the high-temperature/low-temperature chamber, and the conveyor drying equipment, among others.

1982

The factory was relocated from Zhonghe to Xinzhuang and the name was officially changed to "WEISUN INSTRUMENTS CO., LTD."

1988

They collaborated with well-known domestic drying equipment manufacturers and developed the first oven to be used exclusively in clean rooms in Taiwan.


2009

The WEISUN patent and trademark were approved in China and Taiwan;
the first self-owned brand oven was launched in the market.

2010

To meet the demand for drying process for the semiconductor and electronics markets, the R&D and Design Section was established.
Developed Clean oxidation-free drying equipment required for the electronics process

2011

Assembly Plant II was commissioned.

2012

Started collaboration with a well-known industrial oven manufacturer in Japan and developed ovens
to be used exclusively for the special drying processes in electronics industry.

2014

• Exhibited in the various international exhibitions in Taipei for the first time
Flat-panel display, TPCA, SEMICON, and Touch TAIWAN
• Officially took on the path for self-owned brand
•Introduced semi-automatic clean oxidation-free ovens that
combine communication and PC/PLC control systems
• Officially entered the semiconductor supply chain market
• Patent certified :The structure of UV lamp holder

2015

Successfully developedhigh-power UV-LEDs
Patent certified:The oven structure with high temperature & dust free

2016

Officially implemented ERP
Received subsidies from the Ministry of Economic Affairs for SBIR Innovative R&D Project
Successfully developed 530-Degree high-temperature clean oxidation-free ovens

2017

Exhibited in SEMICON China and signed contracts with agents in Mainland China and Southeast Asia to expand the business landscapes.
Officially accessed the PCB supply chain in the same year.

2018

Application for capital increase was approved;
the company was renamed to "WEISUN
INSTRUMENT INDUSTRIAL CO., LTD".
To meet theproduction capacity, the new Baiji factory in Sanxia wasestablished.
ISO 9001 certified.
Received local SBIR subsidy from New Taipei City for 'High-Power UV-LED.
Awarded the New Taipei Industrial Association Innovation Research Award and Corporate Sustainable Development Award.

2019

• Won the 16th National Brand Yushan Award
• Won the 15th Golden Torch Award
- Top 10 Outstanding Enterprises
• Won the 15th Golden Torch Award
- Annual Innovative Design
• Local SBIR project approved by the New Taipei City Government "UV LED High-efficiency Cooling Light Source System Development and Design"

2020

• Won the 20th Golden Peak Award
• Exhibited in "2020 Automation Taipei"
• Patents certified for multiple products such as Improved Structure and Device for Door Handle' and 'Enhanced Structure for Bearing stand.

2021

• Won the 2021 Taiwan Golden Jade Award.
• Won the 18th Yushan Award - Best Corporate Leader and Best Product
• Certified in 2021 as a Sports Enterprise
• One of the 14th Top 100 MVP Managers
• Won the 2021 Innovation and R&D Award of New Taipei City Industrial Association
• Patent certified for "Oven Automatic Switch Mechanical Device"

2022

• Awarded the First New Taipei Outstanding Business Award.
• Obtained the 29th Small and Medium Enterprise Innovation Research Award from the Ministry of Economic Affairs.
The dust-free and oxidation-free oven has obtained CE certification in Europe.
Recognized for technological achievements through the Industrial Bureau's Science and Technology Program for the development of "Intelligent drying System Equipment."
Focused on the drying process and officially renamed as "WEISUN Industrial Co., Ltd."

2023

Implemented PLM and CRM systems to achieve precise digital management.
Actively expanded sales in overseas markets, participating in government's New Southbound Market Innovation Marketing Program.
Three patents certified for "Ultra-Efficient Conveyor Oven","Improved Structure for Gate", and "Enhanced Structure for Preheating Machine."